HALLOWEEN IN ISLA VISTA
Scroll Down to Learn More On this page, we provide updates for the Isla Vista and surrounding communities on community and campus plans to keep our community safe during Halloween weekend in Isla Vista. Keep it Local. Keep it Safe.
**All information is subject to change.
EVPLA 2023 Halloween Town Hall
The EVPLA Hosted the office's annual Halloween Town Hall Tuesday, October 17th in Embarcadero Hall. Panelists included: Lt. Garrett TesLas (IVFP), Community Resource Officer Colby Carrell (IVFP), Chief Alex Yao (UCPD), Lt. Matt Bly (UCPD), Professor Geoffrey Raymond (Chair of the Police Accountability Board), Katya Armistead (Assistant Vice Chancellor and Dean of Student Life), Marcos Aguilar (IVCSD President)
The town hall took questions from students and community members regarding not Halloween but police in Isla Vista generally. The panel was centered around restorative justice and community-oriented safety and how to better incorporate them within our community. Please SCAN THE QR to view the recorded live of this event!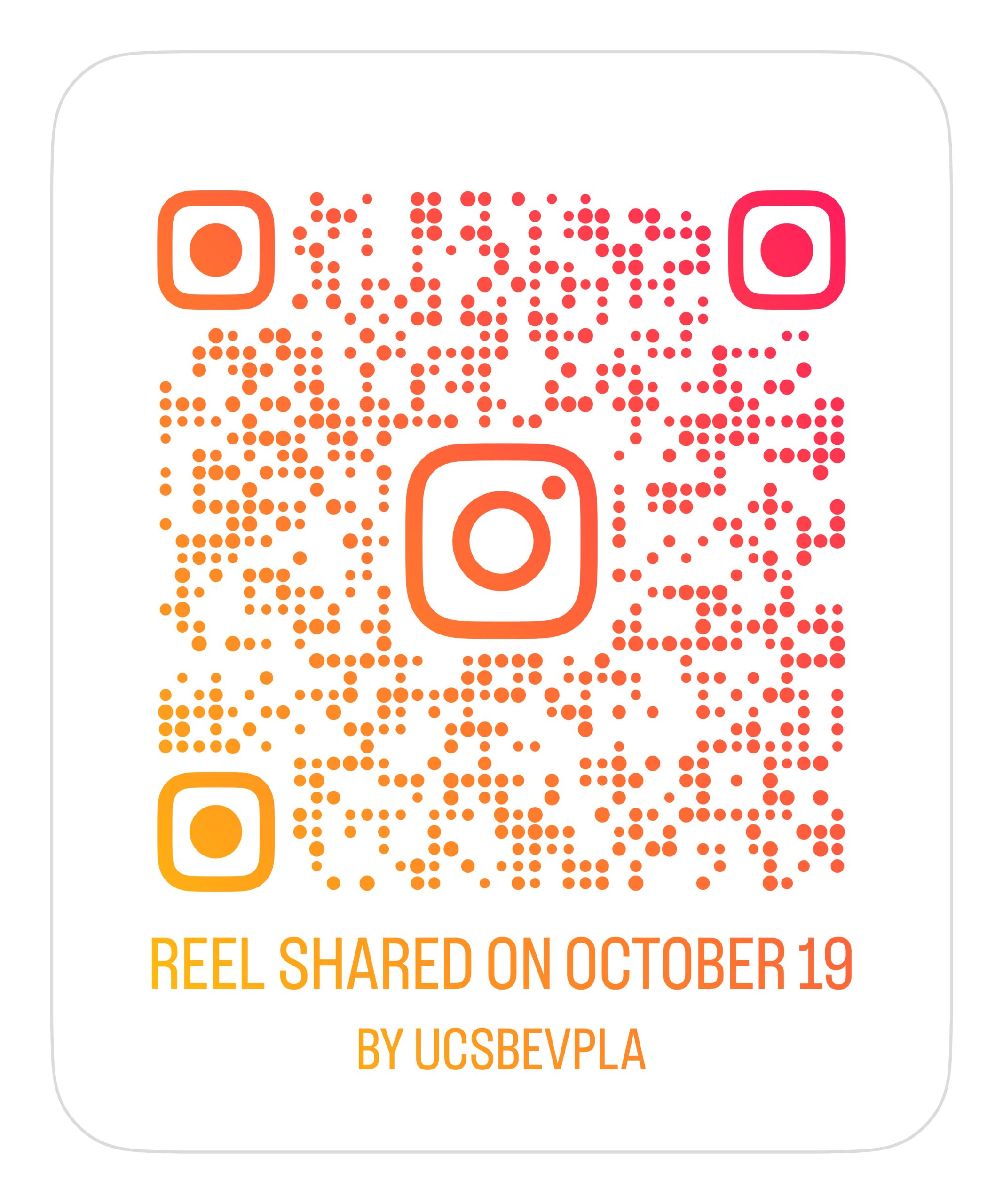 PARKING AND TRAFFIC:
As in previous years, a number of our community and campus parking locations are subject to closure and access will be limited to support enhanced safety and security measures.
In addition to parking lot closures, traffic in and around Isla Vista and campus may be impacted. Certain roads in Isla Vista may be barricaded and closed to vehicular traffic.

Parking Restrictions (Isla Vista)
We highly advise relocating all vehicles parked on either Del Playa and Sabado Tarde on Friday, October 27th, Saturday, October 28th, and Sunday, October 29th.

Parking Restrictions (UCSB Campus)
On Friday (10/27) and Saturday (10/28) night there will be no visitor permits or overnight parking on campus unless you have an e-permit
Registered UCSB Students with an Annual Night and Weekend parking permit can park in designated lots on campus beginning at 9AM Friday, October 27th until 7:30AM on Monday, October 30th
Designated lots for night and weekend holders are in Structure 22, and Parking lot 30. *all other campus lots are subject to closure*

Apply/purchase online by going here
Permit verification can take up to four days, so purchase by October 23rd

Visit the UCSB Transportation and Parking Service Halloween Information web site here for information on parking restrictions on campus and campus checkpoints

Parking Restrictions (Goleta)
The Goleta City Council has voted unanimously to not implement temporary on-street parking restrictions for Isla Vista Halloween this year.
FENCING:
There will be no fencing this year for Halloween.
RESIDENTIAL & COMMUNITY LIVING:
Residence halls will be 'resident access only' & have a no-guest policy starting Friday 10/29

Vehicle checkpoints will be at Sierra Madre and Santa Ynez

RA's and DA's will be working in lobby areas from 8pm-1am on Friday and Saturday night (10/29-10/30)
LAW ENFORCEMENT:
The Sheriff's Office plans to increase their presence for Halloween, but not significantly. They do not plan to barricade streets leading to Del Playa, will not have horse mounted units, and will not be towing on Del Playa. The Sheriff's Office oversees enforcement from Camino Pescadero to the west.
UCPD will increase their staff with officers from other campuses. They will manage traffic control on campus. UCPD oversees enforcement from Camino Pescadero to the east.

RESOURCES & COMMUNITY SERVICES:
There will be a Safety Station at Little Acorn Park from 8pm-2am on Friday and Saturday. It will be staffed by Community Service Officers and sponsored by the IV Community Services District
More information can be found on the Isla Vista Community Services District Halloween page